Meet Nigel Parke
18th November 2021
At Messagemaker Displays, we have an experienced and knowledgeable team. Here, we talk to Nigel Parke, our Business Development Manager about his current role and what he hopes to achieve in the coming years with the company.
Hi Nigel, could you start by telling us a bit about your career history?
After leaving school, I studied Electronic at College for 3 years and recruited by the Government Communications Headquarters as an electronic engineer. After 6 years, I moved to a similar role at Subelectro, manufacturing video games for arcades and pubs. Finally, I moved to Telemetrix working on the creation of high-resolution Computer Aided Design (CAD) and Computer Aided Manufacture (CAM) displays, before moving into LED Displays in 1993. Since then I have worked with several major display companies and I have around 27 years of experience in the design and manufacture of LED displays and signs.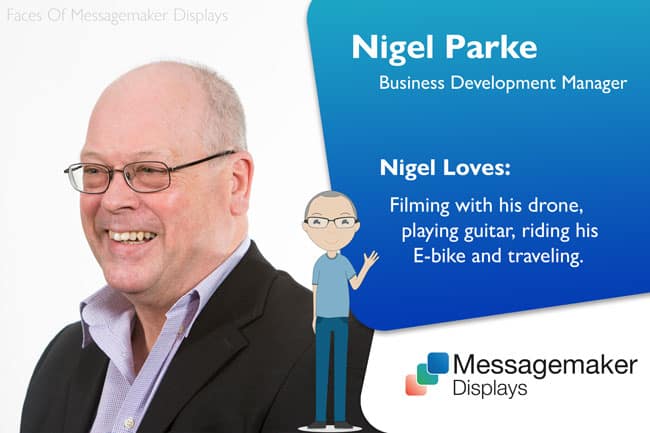 What does your role with Messagemaker Displays entail?
As a Business Development Manager, my job is quite varied; however, I do spend a lot of time responding to enquiries and developing quotes for prospective clients. My role also involves researching new products, markets, and clients so we can continue to innovate. Our clients often do not know want they want but come to us with a problem to which we provide a solution.
In addition to conducting site surveys and developing new routes to market for the company, I am responsible for gaining Individual Vehicle Approval, Driver and Vehicle Standards Agency approvals, as well as Temporary Operations Permits registration for all our trailers and highways products.
What is a typical day like for you?
 I often start by responding to any new enquiries I have received from prospective clients. On a day-to-day basis, a lot of my time is allocated to liaising and developing proposals with new clients while also managing any large projects the business is involved in. Other than this, the nature of the markets we work with mean it is essential that we comply with all relevant legislations. As a result, I regularly check and gain the registrations and conformances we need to ensure our range of products continue to meet the standards required. Site visits and client meetings are often required to ascertain their exact requirements.
Has COVID-19 affected your day-to-day work?
 Absolutely. While the recent lift in restrictions across the UK has allowed us to conduct more client visits, at the peak of the pandemic I was unable to complete any onsite surveys. I had to adapt to carrying out a lot of my day-to-day responsibilities remotely, which was a challenge.
Are there any key services that set Messagemaker Displays apart from its competitors?
 I'm incredibly proud of our extensive experience as a leading provider of LED displays. This enables us to guide clients to the most suitable, cost-effective solutions for their needs. Coupled with the quality of our technical support, I believe we are ideally positioned to resolve any and every potential problem our clients may face.
Not only this, but in the age of sustainable solutions, adopting low power designs for our Variable Message Signs (VMS) has allowed us to manufacture systems with energy-efficiency in mind. We have a range of products that operate on renewable technologies such as solar power, wind power, rechargeable batteries and fuel cells. We have also developed innovative software such as the Remote Connect System, an essential tool to remotely monitor our systems while displayed messaging can be scheduled and updated in real time.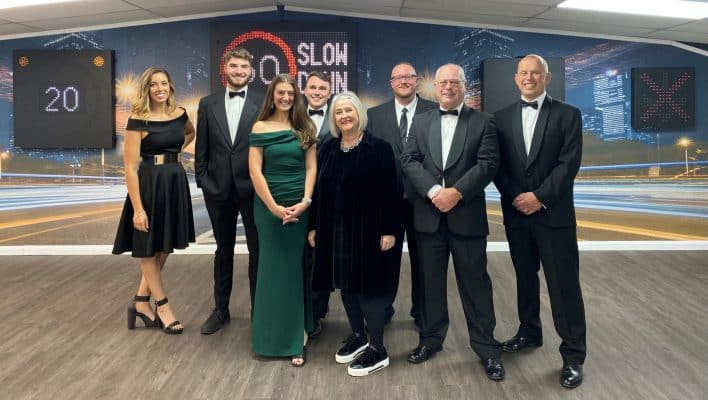 What are you hoping to achieve over the next few years with Messagemaker Displays?
 Like most companies, the last year and a half has been a strange time so my main priority is to return Messagemaker Displays to post-pandemic normality. In terms of more long-term objectives, I hope that we can continue to expand our operations and become one of the major traffic displays and signs suppliers for customers across the UK.
Fun fact.
 I love old jokes. I have many one-liners stuck in my head which are brought to the surface when someone mentions a subject. You can't beat a classic one-liner.
 "I backed a horse at 10 to 1, came in ½ past 3"