Messagemaker Displays Ltd helping you spread the message not the virus.
28th January 2021

2020 was a challenging year for communities worldwide regarding the Coronavirus pandemic, then halfway through January 2021 what we were hoping to leave behind in 2020 has unfortunately stayed with us. With information and guidelines rapidly changing, VMS road signs are a great way of spreading the message to the public.
Now that we have headed back into another lockdown in the UK, we need to adhere to the correct rules, social distancing, "hands, face space", essential travel only, etc. Our Mobile Variable Message Sign (Mobile VMS or Trailer VMS) have been employed to help inform the public of all these rules.
Why use Mobile VMS for COVID messaging?
Mobile VMS Trailers are popular tools for roadside messaging due to them being mobile (it's in the name!)
Our signs are a mobile and flexible way to communicate impactful messages, alerts, and warnings by the roadside. Ideal for informing the COVID-19 restrictions that have been put in place for our safety for when people are not staying at home.
The full colour Mobile VMS provides excellent high resolution for messaging and is available in three different sizes; Large, Medium and Compact. Messagemaker Displays' innovative range also includes the VMS Tower Unit and Mini Unit to cover every size and roadside environment. All these models are ideal for displaying temporary roadside information.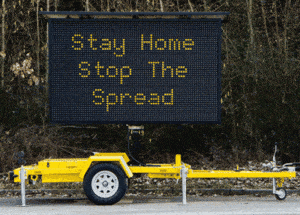 What about when the pandemic is no more?
When not being used for COVID-19 messages our VMS are great for Temporary Road Works, Events/Crowd Control, Advertising, and Journey / Travel Time Information.
LED displays are all we do and all we've ever done. It means our knowledge and experience is invaluable in ensuring you get the right LED solution to your sign and display requirement.
For more information about our VMS, or if you would like to know more about how our products can help with communicating information to the general public, please contact us on 01737 774738 or send us an email sales@messagemaker.co.uk