Meet the Team – Marketing Executive Kelly Spear
15th August 2023
Here we catch up with Messagemaker Displays' Marketing Executive, Kelly Spear, to learn about her background, current role and extensive pet collection
Getting Started in marketing and joining Messagemaker Displays
My marketing career began in 2017 with global technology provider and distributor Westcon-Comstor as a Marketing Apprentice. Since then, I've worked for various large B2B companies including Sivantos Group and, most recently, Restore Record Management. I have progressed from Marketing Assistant to Marketing Executive roles,  and last year I secured my job here at Messagemaker Displays. The team have been incredibly welcoming and I've enjoyed getting up to speed with both the Stocksigns and Messagemaker brands ever since.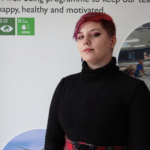 My role here at Messagemaker
Much like any other marketing role, my role here at Messagemaker is incredibly varied. A typical day can include organising marketing campaigns and materials, drafting and uploading blogs, updating and maintaining the website, creating email campaigns, helping with social media content and reporting on campaign results to the sales team. Of course, there are plenty of one-off projects that crop up to keep me on my toes too!
Although most of my work has a digital focus, Daniella, our Marketing and Graphics Manager has been on maternity leave so I have been looking after a few other marketing areas, including managing the flow of content from our external PR agency.
My role in sustainability for both the Messagemaker and Stocksigns brands
When I was first interviewed, I mentioned my interest in sustainability – not only the environmental aspects but the social ones too. Whilst I try my best to recycle and live in a more sustainable manner personally, I believe that there is more that companies can do and afford in terms of operating more sustainably.
I do tend to do more sustainability work on the Stocksigns side of the business, getting us to Silver status with the Supply Chain Sustainability School. That being said, all the insights I gather from workshops and webinars that I attend are shared with the entire wider company here on a monthly basis, both Stocksigns and Messagemaker alike.
Life outside of work
I have loved animals since my entire life, so it's no wonder I have garnered a bit of a menagerie at home. It's a bit like being in a insect and reptile sections at a zoo!
I have tarantulas in just about every size, shape and colour (including one so blue you'd think it was photoshopped), a couple of scorpions, a centipede, various isopod species, 3 leopard geckos, 3 crested geckos, a leachianus giant gecko, a dwarf monitor lizard and a box full of fruit beetles that eat my leftover fruits. Before I dived into the world of marketing I studied Animal Care at Brinsbury College and volunteered at a local falconry centre. One of the things I would love to do one day is volunteer with animal conservation programmes, such as working with sharks off the coasts of South Africa.
I am an animal lover first and a gamer second – you can often find me on my PC  at home or Nintendo Switch during work breaks. My taste in videogames is rather broad, as I am often playing Warhammer 40,000 games, various survival crafters such as The Forest, and the occasional bit of Stardew Valley or The Sims. I'm also a Star Wars nerd – I even have my own Mandalorian cosplay – and am planning to go to the next Star Wars Celebration in Japan in 2025. Finally, I also love creating artwork, and at one time considered a career as a digital illustrator and animator. As such, my notepads are always covered in doodles – mostly of dragons.