A GUIDE TO VARIABLE MESSAGE SIGNS (VMS)
14th November 2022
In the UK, Variable Message Signs (VMS) are a key method of communicating information to motorists about road conditions or specific events for their own safety. Here, we look at how VMS units work, the different options available and the benefits from using these systems.
What are Variable Message Signs?
VMS products are an integral part of the UK's intelligent transportation system. Featuring LED screens to display messages on a range of events, these signs assist drivers and enable them to make safer, more informed decisions. This may come in the form of reducing travel speed, changing lanes or simply increasing awareness of upcoming traffic.
A brief history of Variable Message Signs
While the first major use of VMS units dates back to the 1950s in the United States, other countries like the UK were much slower to adapt. Initially, they used neon tubing to present messages and only alerted motorists to road accidents ahead. Since then, the modern era of VMS systems has adopted remotely controlled LED displays that allow operators to communicate graphics, coloured text and quickly edit signs when required.
As a result, VMS products are a common feature on public and private roads in the UK. However, for use on public highways, these signs must fit certain specifications and standards that are set out by the UK government to ensure good practice. Published by the Department for Transport, the Traffic Advisory Leaflet covers all roadside VMS systems, from simple flap-type fixed signs to more advanced LED panels, as well as the importance of concise messages and ensuring all information is displayed on a single sign aspect.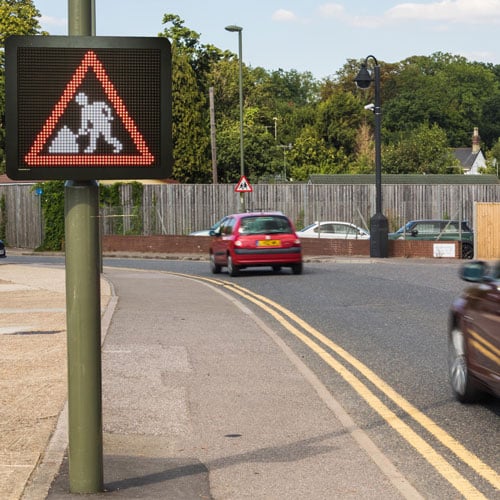 How do Variable Message Signs work?
VMS units can operate from a range of wired or wireless communications, such as 4G modems, radio signals or local network links. They are often linked to a manned control centre where the network of signs can be remotely monitored and instantly updated to display the appropriate information to motorists at all times.
There is also a series of additional features that can be integrated with VMS products. For example, vehicle detection radar can automatically trigger the sign when a vehicle is either approaching or exceeding a specified speed limit, while over height detection and wig wag flashing corner lights are other common additions.
These signs are self-diagnostic, with monitoring and error reporting capabilities to alert operators if an issue has occurred. VMS systems can also be powered via a number of different methods, including a mains power supply, rechargeable batteries, renewable energy sources such as solar and wind or fuel cell technology.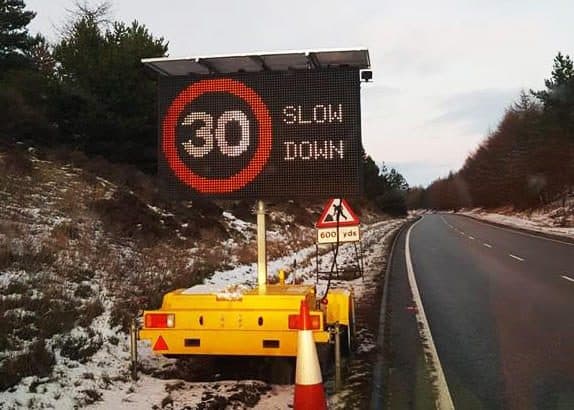 Types of Variable Message Signs
There are two types of VMS units in use in the UK; fixed and temporary. Fixed Variable Message Signs are installed in a single permanent location and placed in highly visible areas that will not be obscured by greenery or man-made structures. They are commonly mounted above highways or displayed in car parks.
The High Speed VMS Display from Messagemaker Displays is a robust and reliable example. Developed to communicate road closures, increased traffic and specific events in the area, this fixed VMS is available in one colour, two colour or full colour matrix displays. The CE-certified product also includes integrated vehicle detection radar and smart sensors to display information to drivers without distracting them.
Temporary Variable Message Signs are designed for ad-hoc usage. Often mounted on wheels or trailers for simple transportation, these signs can be easily deployed to display messages at locations while temporary events take place.
There are a number of temporary VMS systems available from Messagemaker Displays, including the Tower Unit. Built on a jockey wheel for easy manoeuvrability, the Tower Unit has a significantly smaller footprint than traditional VMS units, ideal for use at locations where space is limited. Featuring a rotatable 140-watt solar panel and full GPS tracking as standard, the Tower Unit is also integrated with our own Remote Connect System (RCS) to instantly update messages, compatible using a 4G modem.
What are the benefits of Variable Message Signs?
Energy-efficiency – Often operating on an ultra-low power consumption, they have excellent reliability and a longer overall lifespan compared with alternative smart signage options.
Customisable – Messages can be updated at the touch of button. This is incredibly useful for operators when an incident has just taken place and motorists need to be made aware of the situation immediately.
Visibility – While basic road signs can be difficult to read in poor light or harsh weather conditions, VMS units are a bold and eye-catching communication tool. With safety standards dictating that signage must be viewable in all conditions, the smart sensors can automatically adjust the brightness of the LED displays for optimal viewing.
Renewable energy – Some VMS products can integrate renewable power sources, such as solar and wind energy. For example, our Tower Unit features a solar panel, reducing the requirement on a traditional mains power connection.
Versatility – More recently, the versatility of VMS units has led to their use on construction sites, industrial facilities, ports and at events to communicate safety information, directions and speed limits. The COVID-19 pandemic has also led to these signs being used to display safety warnings and reinforce restrictions.
The widespread use of VMS products on the UK's motorways and urban roads is indicative of their success in increasing motorist and pedestrian safety. As the industry continues to shift its focus to integrating smart technology, they will remain a key part of any intelligent transportation system strategy for the foreseeable future.
To find out more about our range of Variable Message Signs, click here.