Case Study: Messagemaker Displays Specifies Site Safety Solution
2nd August 2023
When the site of works for the new Mendip Cabling Project, connected to the Hinkley Point C Power Station, required a signage system within its tight timescale, Messagemaker Displays was selected to provide the ideal solution. By specifying two of its fixed Vehicle Activated Speed (VAS) Warning Signs, with a bespoke activation system, traffic safety when accessing the site was vastly improved.
Summary
Located on the A371 in Banwell, North Somerset, the project required an automatically activated signage system that could be used to alert motorists of the temporary traffic lights up ahead on the road. Through the use of wireless telemetry radio frequency technology, the newly installed signage system could be linked to the traffic lights and recognise when they were about to change from amber to red, providing forward warning to approaching motorists. Messagemaker Displays liaised closely with Balfour Beatty in order to design and deliver a bespoke solution that would meet the company's exact project requirements.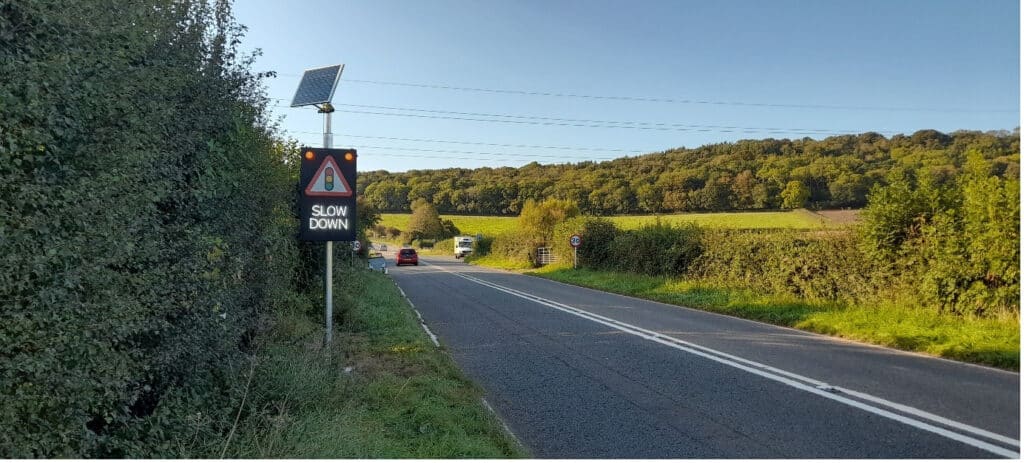 What We Did
Messagemaker Displays specified two of its solar-powered VAS Wig Wag warning signs, one on each side of the A371's approach to the junction, tailored to display the desired TSRGD 543 'traffic signals ahead' symbol. Mounted on secure passive safety posts supplied by Mallatite, the 600mm triangle vinyl signs also feature amber wig wag flashing corner lights and also display a 200mm 'SLOW DOWN' text which can be lit if required using the solar power supply.
How We Did It
In order to meet the required activation needs, the BS EN 12966 compliant traffic signs were then fitted with a unique radio frequency wireless telemetry system. This included a transmitter located in the traffic light controller and a receiver inside each of the signs.
Our Business Development Manager at Messagemaker Displays commented: "Meeting the client's requirements within the timescale was crucial to delivering this project. By providing our industry expertise, we could efficiently incorporate a unique method of activating our warning signs with the wireless telemetry radio frequency technology, and in turn provide a vehicle-activated signage solution that improves the overall traffic safety for motorists accessing the site of works."
The bespoke VAS Wig Wag sign with radio frequency wireless telemetry activation created for the Hinkley Point project has now been added to Messagemaker Displays' comprehensive range of LED traffic solutions and can be paired with any required messaging.
For more information on Messagemaker Displays' and to view its full range of products, please visit www.messagemaker.co.uk or call 01737 774747.